Winter Sports Here We Come!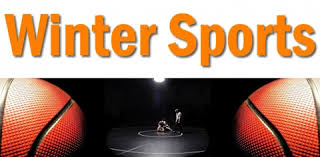 Winter is coming and so are the sports, as the fall sports season recently ended and Hawthorne High School is now transitioning into winter sports.
The winter season consists of basketball, bowling, wrestling, indoor track, and cheerleading. As practices begin, some players are going to be saying goodbye to their respective HHS sports at the end of the season and others are just starting their journey to hopefully a four year season with the team.
Bowling started off the season with their first match against Paterson Charter at Parkway Lanes on December 2 at 4:00pm. The girls basketball team starts their season off with an away game against Mary Help Christian Academy on December 19 at 4:00pm.
Wrestling starts their season away as well against Garfield on December 20 at 5:00pm. The boys basketball team starts the season off with an away game against Passaic County Technical Institute on December 21 at 12:00pm.
Indoor Track has a Holiday Relay Carnival at 9:00 am away at the FDU- Rothman Center on January 3. Last, but certainly not least, the cheerleading squad has their first game at 6:00 pm on January 3 at Hawthorne High School.
Come out and support your fellow HHS Bears this season and good luck to all of the athletes.