The Return of Conor McGregor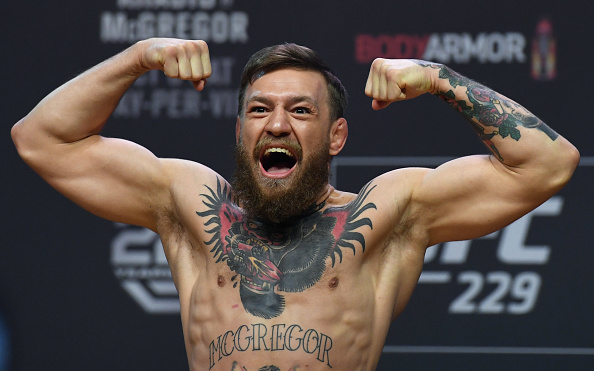 The "Notorious" Conor McGregor will make his long anticipated return to the UFC octagon. He is scheduled to fight Donald Cerrone on January 18 in Las Vegas. This fight will be the main event at UFC 246 at the T-Mobile Arena. 
This fight will be a welterweight bout, meaning both fighters will weigh in at 170 pounds. Conor McGregor has fought at welterweight twice before. He fought Nate Diaz twice at 170 pounds in 2016. One of those fights was a loss for the "Notorious" via submission. The other fight resulted in a win for McGregor with a majority decision. 
Conor has not fought since his loss against the undefeated Khabib Nurmagomedov in October of 2018. He has been surrounded by controversy ever since the post-fight brawl between Conor's team and Khabib's team. Both fighters were suspended, but Khabib has defended his lightweight title multiple times while Conor will finally make his return. McGregor will be looking for a rematch against Khabib in the near future to regain his lightweight championship. 
McGregor's last victory came in November 2016, over three years ago. This was a knockout victory against Eddie Alvarez to become the lightweight champ. This win made him the first UFC fighter in history to hold two titles in  two different weight classes. 
Cerrone, who holds a 36-13 record, also holds the the UFC record for most wins and finishes in history. "Cowboy" Cerrone is a former lightweight title challenger, but has fought at welterweight since 2016. His last few fights have been very rough, most recently being knocked out by Justin Gaethje in September. 
It is very possible that we will see a rematch between Conor and Khabib in 2020, according to UFC president, Dana White.
"Conor wants to fight three times this year," Dana White told ESPN. "He's hoping if he beats Cowboy, he can turn right around and fight Khabib, but that timing isn't going to work out. But you know Conor. His thing is, 'I'll beat Cowboy and I'll be ready to fight Khabib at 155 if anything happens." 
McGregor is a top contender for the lightweight championship, according to White.
"So, Conor is is in line next for this fight if he beats Cowboy… this is a 155-pound fight that they're not cutting weight for." 
This means that Conor jumps Justin Gaethje in line for the next shot at the title. Gaethje is upset that he will not be getting the next shot, despite being dominant this past year. Dana White justified the decision by bringing up the bad blood between Conor and Khabib.
" Look what Conor has done over the last, however many years. And then he loses to Khabib in a fight that was, we've talked about bad blood, try next-level bad blood. Gaethje was on his way up, too; we've offered Gaethje a lot of fights that Gaethje hasn't taken."
It is unusual to see Conor getting an immediate rematch after a loss and a fight at a different weight class, which is exactly Gaethje's point. 
Conor McGregor likely has a backup plan if he loses to "Cowboy" Cerrone in January. He has been called out by rising star, Jorge Masvidal, this year, who fights at 170 pounds. A fight between the two could be a possibility in the case that Conor loses to Cerrone. Dana White has reportedly told Conor that this fight may not be a good idea.
 " I think [that's] a bad idea, but Conor gets pissed off when I say it's a bad idea. He's like, 'you think I can't beat Masvidal?' and that whole thing. I'm not saying he can't beat Masvidal, anybody can beat anybody on any given day, but why? Why go after that fight if you could possibly just wait? "
It will be very interesting to see what exactly happens throughout the year. McGregor is known to be entertaining and unpredictable so we are in for a wild year.