Yankee Fan Today, Tomorrow, Forever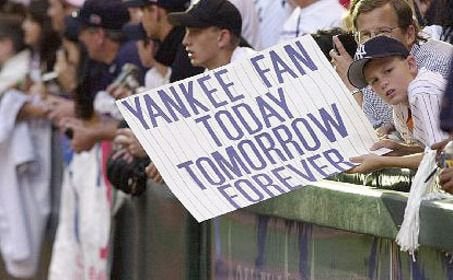 Gerrit Cole was destined to be a New York Yankee. Cole, who just recently signed a nine year, 324 million dollar contract with the Bronx Bombers, has always really been a Yankee. but with extra steps in between.
Gerrit Cole's Yankee roots dates all the way back to the 2001 World Series featuring the New York Yankees and the Arizona Diamondbacks. During game 6 of the World Series, in Arizona, photographer William Perlman took a picture of 11 year old Gerrit Cole holding a sign saying "Yankee fan today, tomorrow, forever." Little did people know that this 11 year old boy would be a prized possession signing for New York 18 years later. 
It all started in 2008. The New York Yankees drafted Gerrit Cole right out of highschool. Cole had other plans though and turned down the initial draft offer. Instead he opted to continue his education at UCLA.  During his time at UCLA he put up very good numbers. The numbers were so good that in 2011, Gerrit Cole was once again drafted in the MLB. 
It was not the Yankees who drafted him, however. 
Instead, with the first overall pick in the 2011 draft, the Pittsburgh Pirates selected starting pitcher Gerrit Cole. Cole was now in the MLB but he was not with the team he had once said to be a fan forever. After two years in the Pirates minor league system, Gerrit Cole was called up in June of 2013 and his actual MLB career was just beginning. 
Cole got his first taste of a play off environment in his rookie season of 2013 when the Pirates made the Wildcard game. Although the Pirates did not make it past the Division Series as they fell to the eventual National League Champions, the St. Louis Cardinals, Cole did get his first real taste of the playoffs.  He would need that for where he was going next.
During the offseason in between the 2017 and 2018 season, rumors were running wild that Gerrit Cole was going to be traded to the New York Yankees. That did not happen however. Instead, Gerrit Cole was traded to the Houston Astros where his career really took off. Cole became one of the best pitchers in the game during his two year tenure with the Houston Astros and led them all the way to game seven of the 2019 World Series. He was the Cy Young runner up in 2019 and many people believed he deserved the award. 
After becoming a free agent this offseason, many experts predicted that Cole would receive a massive contract since he had such a fantastic two year stint with the Astros. 
Once again, rumors started to run wild about a potential future involving Gerrit Cole and the New York Yankees, the team he said he would be a fan of forever. Rumors soon  turned into reality as the Yankees planned to meet with Cole to discuss a potential deal. With worries about Cole wanting to be on the West Coast, he cleared that up when he stated, "There is not West Coast bias" when he met with the Yankees.
In early December, Cole finally signed with the Yankees for a record breaking amount of money. Earlier this week Cole had his first press conference with the Yankees in New York. It took 29 years, but Gerrit Cole was finally a New York Yankee. At the press conference, Cole said, "Pressure is a privilege." That is a very nice thing to hear your ace pitcher say, especially in an environment like New York.
Gerrit Cole, with a move that sent fans berzerk, also brought and showed off the original sign saying "Yankee fan today, tomorrow, forever" which he held at the 2001 World Series. By doing this, it shows just how much Gerrit Cole wanted to be a New York Yankee and now he has his opportunity to prove his worth and make his lifelong dream come true.