Ostrich Racing at HHS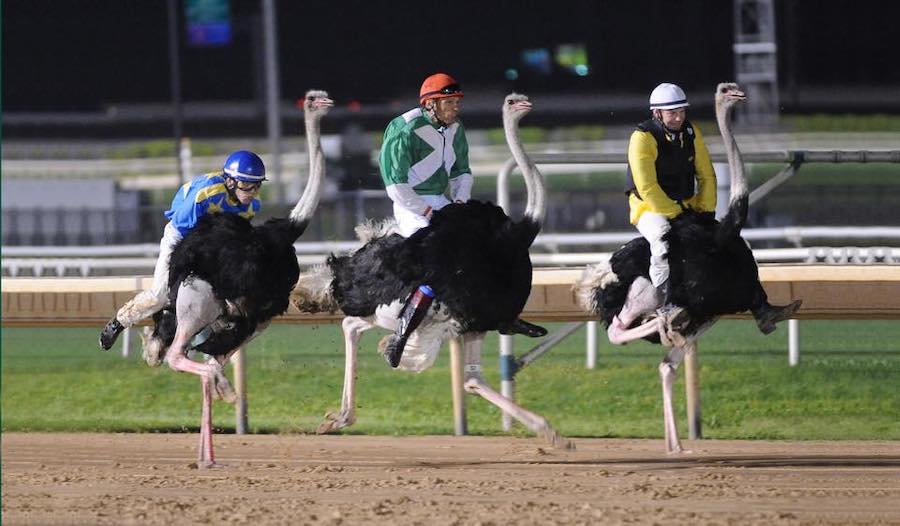 Rufus T. Firefly, Staff Writer
April 1, 2020
In what can be best described as a "coup" the HHS administrators are proud to announce that Ostrich Racing, will be offered as a sport, starting in September 2020.
Ostrich Racing as a sport had its origins in South Africa, but is quite popular here in the United States, especially in Chandler, Arizona.
"We budgeted for the Ostriches," said assistant vice-principal and AD Art Mazzacca, "and we got em!"
Before even entertaining the idea of Ostrich Racing as a viable HHS sport, all three administrators raced the majestic animals, on a farm in New Jersey early last fall.
"We put on these beautiful racing uniforms," said vice principal Craig Jandoli, "…and we raced. There's nothing like the wind rushing through your hair, while atop an ostrich."
Stables for the animals are already being constructed, on Wagaraw Road, near the baseball fields. All racing of the animals will be done on the HHS track. The sport will be offered as a fall sport.
"It's really a win-win situation, " concluded Mazzacca, "…an Ostrich is a beautiful animal to look at and race, and when they're not racing, they are laying eggs that can be used in the Hawthorne community."
Look for the racing at HHS in the fall of 2020, and look for the delicious ostrich eggs at the farmer's market in town around the same time.