Chris Paul Traded to Suns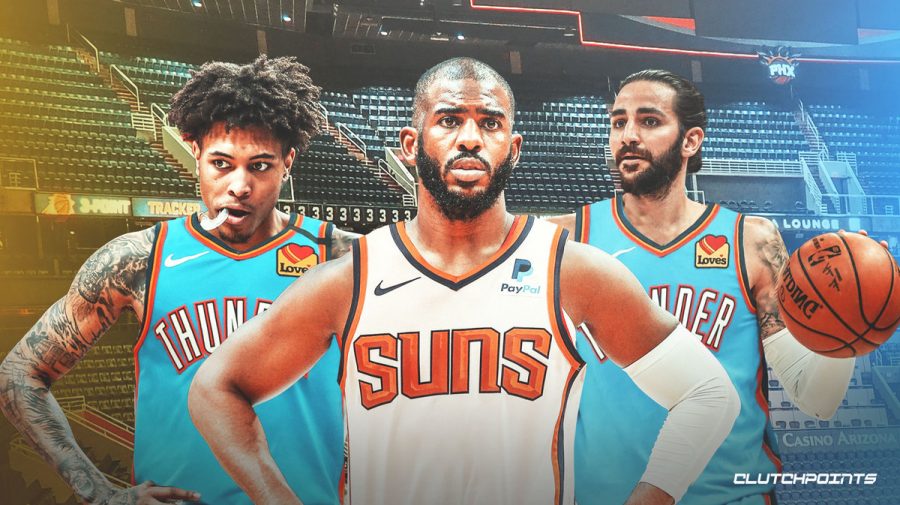 Monday November 16th, NBA point guard Chris Paul was traded from the Oklahoma City Thunder to the Phoenix Suns.  After a few weeks of rumors regarding where Paul would be traded, the deal was finally completed, and he will be heading to Phoenix for next season along with Abdel Nader.  Coming to the Thunder in the deal are Kelly Oubre, Ricky Rubio, Jalen Lecque, Ty Jerome, and a first round draft pick.  This is the second time Paul has been traded in two years, having been moved from the Houston Rockets to Oklahoma City before last year.  
Last year, Paul led a young Thunder team to a surprising playoff berth.  Before the season started, Paul was exchanged, along with a few draft picks, to Oklahoma City for superstar point guard Russell Westbrook.  Paul, 34 years old at the time, was seen as an aging former star without much left to give and an expensive contract.  The Thunder were in the midst of an apparent firesale, having traded Westbrook and fellow star Paul George away.  The numerous draft picks and bounty of young talent that the Thunder had acquired through these deals figured to set them up for future success, but not much in the meantime.  What happened instead was a pleasant surprise; Paul commanded the young underdogs to the 5th playoff seed in the western conference, proving many doubters wrong.  In doing so, Paul showed that he is not on his way out yet.  His duty in Phoenix will be similar to his in Oklahoma City, being a talented veteran presence on an otherwise young and inexperienced team.  In addition to last year's performance, there are reasons to believe that he will have similar success on his new team.  This trade will unite Paul with young Suns guard Devin Booker, who led Phoenix on a furious run to the tune of an 8-0 record to finish last season.  The performance elevated Booker from one of the league's most promising rising players to a fully arrived star.  Combined with the 2018 first overall pick, center Deandre Ayton, Phoenix seems to have a very solid core at the center of its team, one that should absolutely contend for the playoffs, if not a deep run into them, in coming years.
The trade certainly seems to be beneficial for all parties involved as of right now; the Thunder have secured more draft picks and young talent for their rebuild; the Suns have added a smart, skilled point guard to lead and mentor a young but talented team; and Chris Paul gets to join and spend some of his twilight years on a rising team with an exciting future.  As Paul showed us last year, though, he still has a lot left in the tank, and he could do something special with the Suns.