Yankee Fans Go Rogue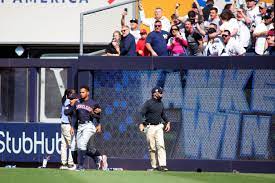 There are some cities throughout the country that have terrible fan bases, in which they treat the opposing sports teams like trash. Personally, some of the cities with the worst fans include: Boston, New York, Philadelphia, and Cleveland. Through the years security has been heightened in major sports venues, but people are still figuring out ways to harass the professional sports players.
One of the actions that have been taken to tighten up security is that all heavy duty bottles of liquids that are sold in the stadiums are opened so that they cannot be used as weapons. With this, fans are still using the empty bottles as projectiles to throw at the players, so that they could get under their skins. 
On Saturday April 23 the Yankees played the Guardians at Yankee Stadium, and the Yankees ended up winning the game 5-4. During the 9th inning, Guardians outfielder Steven Kwan attempted to make a play at the wall and he smacked into the wall very hard which caused him to go down, riving in pain. The trainers came out to provide Kwan with assistance, and with this the Guardians outfielders all came together to give Kwan support.
As they were grouped together, the fans began trash-talking the players and the players began talking back to the fans telling them to, "keep their mouths shut." One of the outfielders Myles Straw climbed on the wall and got into the faces of the Yankees fans, he proceeded to talk trash to the fans since they wouldn't stop berating Straw and his teammates.
Shortly after this, Gleyber Torres of the Yankees hit a walk-off that caused the Yankee fans to go wild. With the fans going crazy, they began to throw garbage and cans at the Guardian outfielders which could've seriously injured them. The Yankee players began to run over to the outfield and they told the fans to stop, and for their own players to say something shows a lot about what they were doing. 
The event not only proved why New York has one of the most hated fan bases in the country, but that there are no boundaries to what the fans will and will not do. Authorities are attempting to ID some of the culprits, as well as providing consequences for their actions.