Alum Javier Vargas: United States Army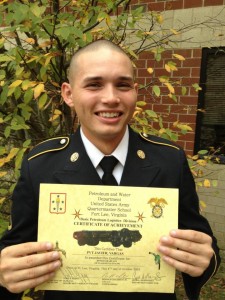 Javier Vargas, an HHS 2012 graduate, recently completed training for the United States Army Reserve. Vargas' Military Operational Specialty is a 92F, which is a Petroleum Supply Specialist. During the summer of 2012, Vargas traveled to Fort Lee, Virginia and stayed there in training for a period of three months and graduated 3rd in his class. While in Virginia, he studied and trained hard for his role in the Army. Vargas had classes every Monday to Friday from 8 a.m. to 5 p.m. "It was a lot of hard work for those three months," said Vargas. "If you failed you got recycled." Vargas, like others in his platoon, worked hard and dealt with the stress and worries of possibly being recycled.
"It's true what they say, " said Vargas. "A soldier does more before 8 a.m. than an average person does in a day." The classes Vargas took varied from learning every type of tanker the military uses to the type of fuel used. Vargas also learned how to make minor repairs as well as battle drill and tactics.
Vargas plans to attend Passaic Community College and then transfer to William Paterson University to major in education (in chemistry) and metaphysics.
Vargas enjoyed his years at Hawthorne High School and felt he had great teachers. Vargas feels strongly that Hawthorne High School prepared him well and helped him reach high to get to where he wants to go in life.