Colorguard Captains Show Off Their Work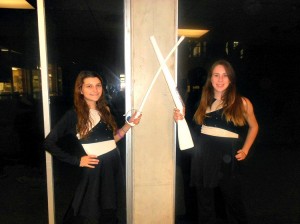 For the 2012-2013 marching band season, junior co-captains Allison Zuckerberg and Faith Martin have shown the members of the colorguard all they need to know about marching in step and keeping in time with the routines for the different songs.
Zuckerberg and Martin both have been in colorguard for three years and plan to continue for their senior year. As captains, they have led the way for the new incoming members. Both help the other members with the different routines from the flag work to saber and rifle work. "I joined colorguard because Faith had," said Zuckerberg. "It was an alternative to having to march in the band. I'd rather be the performer, the one the audience may not listen to, but what they look at and I would love to go back out for captain my senior year."
Zuckerberg and Martin both had a lot of responsibility as captains in the colorguard. These captains put their hearts out into the colorguard to help all members with the routines and also to have some fun in the band. Nothing stopped these captains from having the colorguard be as fun and as enthusiastic as possible during the entire 2012 football season.
"I joined colorguard because I thought it would be a good experience," said Martin. "My sister was in the marching band and my cousin did colorguard and they both enjoyed it. I would definitely like to try out for the captain position next year and spend another great year with my best friend and captain Allison and the rest of my guard friends."
Because they did such a good job, there's a good chance they'll be captains once again next year.