Nicole Crilly: A Talented Actor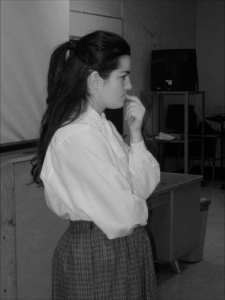 Nicole Crilly, junior at Hawthorne High School, is known for having a true passion for acting and singing, both inside and outside of school.
Crilly has been a part of every musical and drama at HHS since her freshman year, including Willy Wonka, Oklahoma!, You Can't Take it With You, and West Side Story. She has surpassed her own expectations, ambitions, and personal goals by reaching out of her comfort zone, namely when she had the lead role as Maria in West Side Story.
On December 14, 2012, she had the spotlight once again for her fifth production in the drama Our Town as main character Emily Webb. She says that so far her experience with the show has been "fun and educational" and that it's "a unique classic."
Crilly hasn't felt nervous about performing in a long time. She says that on opening night of a production, she usually goes over the lines of the first scene in her head to reassure her confidence. She also sometimes finds herself using her own personal experience in embodying her characters by using her own real-life situations capture the personalities of the person she is portraying.
Additionally, Crilly has taken her passion for acting outside the auditorium doors of Hawthorne High School by taking part in shows over the summer. These shows include Thoroughly Modern Millie, Barnum, and Joseph and the Amazing Technicolor Dreamcoat.
Her parents first sparked her passion for acting and singing. She said that her parents met in the musical Oklahoma!, which she coincidentally had a part in two years ago. Crilly is seriously considering taking on a professional career in acting or singing in the future.