Rudolph Behrens: HHS Alum National Popsci Tech Challenge Winner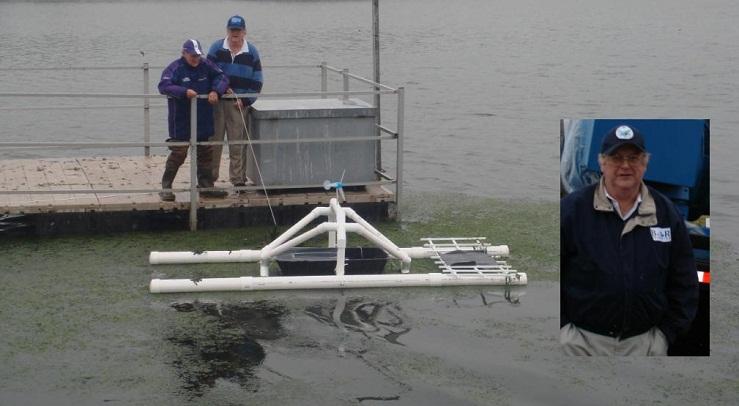 Beneath the senior portrait of Rudolph Behrens in the HHS yearbook of 1971 the inscription says, "What's so bad about feeling good?" After winning the Popsci Tech Challenge for his own invention and owning his own company, B.E.A.R., Behrens is feeling good today.
Just recently, Behrens competed in the Popsci Tech Challenge, sponsored by Radio Shack, and won first place for his invention of the Autonomous Marine Robot. This robot operates at sea for long periods of time in order to turn algae into synthetic fuel, using B.E.A.M. robotic architecture. Innovation News Daily explains the process: "A mild electric current bursts the algae cells to release lipid oils that will eventually turn into biodiesel. The robotic farm ends up with something like hydrogenated vegetable oil floating on the surface, even as the remaining sludge gets recycled into growing more algae." Behrens told the Tribune Democrat that the process, known as cavitation, "forces liquid at high velocity to change the organic material and reach a temperature of 5,000 degrees."
After leaving HHS, Behrens attended Rutgers University and graduated in 1976 with a degree in Aerospace Engineering and Economics. Before founding his own company, Behrens worked for a company that made industrial machinery and also worked at Three Mile Island. He also worked for SUNOCO as chief mechanical engineer for pump technology.
Currently, Behrens is the president of his own small robotics start-up called  B.E.A.R., (which stands for Behrens Energy, Agricultural and Robotics). On the B.E.A.R.  website, Behrens explains his vision as follows: "One of the major issues of our time is energy. The customary forms of energy production, based on fossil fuels, present problems that are steadily eroding our way of life. These problems are well known. The use of petroleum-based (carbon-based) fuels is damaging the environment, leading to potential long-term climate consequences. More importantly, supplies from politically volatile parts of the world are becoming more costly and more uncertain. There is a pressing need for an alternative fuel that is renewable, does not pollute, is economical to produce, affordable to consume, is available now, and can be produced domestically. We have developed and patented just such a fuel and production technology.  We call it S.P.I.S.E. which is short for Seaweed Processed Into Sustainable Energy."
When thinking back on his time at HHS, Behrens believes he received an excellent education, noting, "I have found myself to be more well-read, cultured and erudite than many people I have met from private schools."