Alum Tom Craughwell: Prolific Author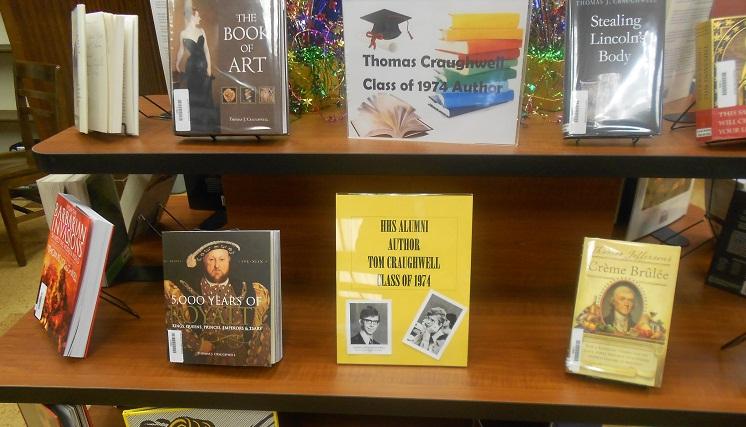 Thomas Craughwell (1974) is an inspiration to all Hawthorne High School students who dream about someday being a published author. Craughwell has successfully moved from being a writer for the high school newspaper, The Clarion, to writing dozens of his own nonfiction books.
Craughwell didn't aspire to be an author back in high school, but in 1992, he decided to quit his job working for a New York travel company and become a self-employed freelance writer. At first, Craughwell wrote newspaper and magazine ads for various products. He also wrote copy for direct mailings (better known as junk mail) for companies such as Swissair and Reader's Digest. In 1996, an editor at Book-of-the-Month-Club asked Craughwell to write an annotated anthology of prayers from different religions around the world. This book was called Every Eye Beholds You, and it sold over 100,000 copies. Due to the success of this book, Craughwell was able to acquire more book deals.
Craughwell decided to write exclusively nonfiction books. Most of his work focuses on the topics of Catholicism, popular culture, and history. He enjoys writing about odd moments in American history that have never been written about before since most publishers are interested in topics that aren't as mainstream. One of his books, Stealing Lincoln's Body was picked up by the History Channel in 2008 and made into a documentary. Craughwell was able to travel to a mansion near Grand Army Plaza in Brooklyn where the crew was filming.
Craughwell enjoyed the experience and said, "It was August, the house was not air conditioned, and it stood directly below the flight pattern to La Guardia Airport. The room where we filmed was very hot, made worse by the lights the film crew had set up, and every time a plane flew overhead we had to stop and do another take. It took four hours to get everything the producer wanted, but it was a fun four hours. The people from the History Channel know what they are doing, and they know how to have a good time."
Craughwell had a good run at Hawthorne High School. His favorite activities were student government, the school plays, and the chorus. He believes that he received a "rock-solid" liberal arts education at HHS. Two teachers, Marion Doherty, who taught history, and Mary Gomes, who taught journalism, impressed upon him the importance of being able to tell a good story.
Recently, Craughwell donated numerous books that he wrote to the HHS library. These include, Stealing Lincoln's Body, How the Barbarian Invasions Shaped the Modern World, The Rise and Fall of the Second Largest Empire in History, This Saint Will Change Your Life, Saints Behaving Badly, 5000 Years of Royalty, and The Book of Art.