Joe and Alex Wojtecki: Volunteer Firefighters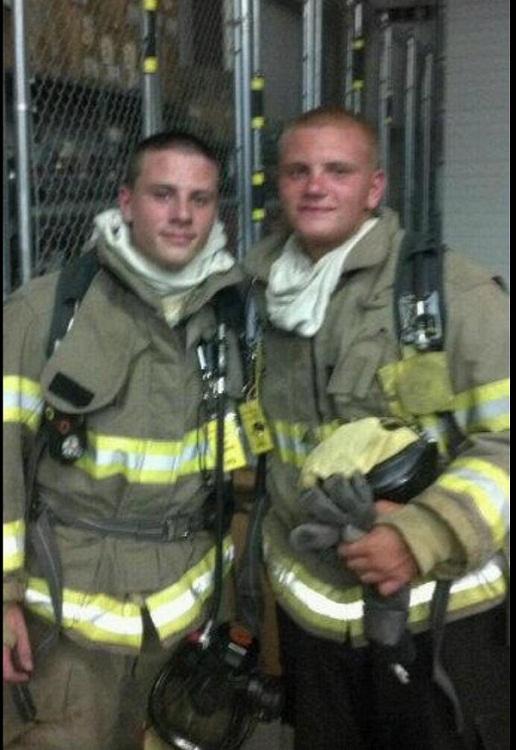 National Volunteer Week, which falls on April 21 – 27, 2013, is a national week to recognize organizations and volunteers throughout the country, and Hawthorne High School's Clarion is doing just that by recognizing and appreciating Hawthorne's own volunteer firefighters, brothers and HHS students, Alex and Joseph Wojtecki.
HHS junior Joe and sophomore Alex have followed in their father's, Joseph Wojtecki, footsteps by becoming volunteer firefighters. Their father has been a volunteer firefighter in Hawthorne for 25 years. To date, Joe has volunteered for four years while Alex has volunteered for two. As both brothers are under the age of 18, they both serve as junior firefighters.
In order to become a junior firefighter, Alex and Joe had to enroll in a state fire program and attend classes. A few of the classes are Fire Prevention, Fire Behavior, Engine and Truck Company Operations, Ropes and Knots, and Basic First Aid and CPR. After completing the classes and joining the Hawthorne Fire Department, the brothers rotate every four months between the town's different companies, which allows them to experience each task. For example, the engine company is the company that works at putting out fires, and the rescue company is the company that helps extractions.
As junior firefighters, their help is vital on all fire calls. Alex and Joe provide the firefighters with supplies or with whatever they may need when they go on the call. Once they turn 18, the brothers will be able to actually help fight fires.
Through the process of becoming volunteer firefighters, the brothers have gained the courage needed to keep everyone safe. Joe says, "Nothing about the job actually scares me because you know you are there to do one job and that is to keep everyone safe while getting the job done." While they are volunteering, the brothers say they gain a sense of confidence and pride in themselves that can also be used during their daily lives.
Working with their father and having the rush of adrenaline of saving people's lives has motivated the brothers to pursue firefighting as a career. Once Joe turns 18 years old, he plans to become a fire fighter. Alex also plans to pursue firefighting as a career when he is of age. The Wojtecki brothers find joy in volunteering and who they volunteer with. "The firehouse is like a family," said Alex.
Joe and Alex are joined in their volunteer firefighting by two other HHS students:  David Morgan and Craig Geier.
Whether in emergency services or not, volunteers are constantly needed all across the country. Consider ways in which you can volunteer and help your community, and if you think firefighting is for you, Joe encourages you to join your local department and help save some lives!