Alum Walter Dewey, Jr: A Man of the Law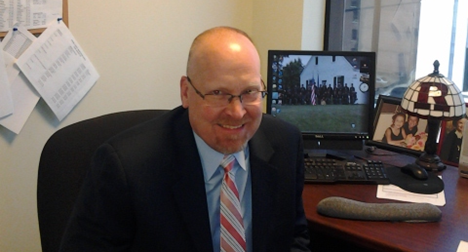 Hawthorne High School class of 1979 alum, Walter Dewey Jr., has been practicing law since 1986 and has established a very successful career that helps protect New Jersey communities from criminals.
Walter Dewey has served 23 years with the Passaic County Prosecutor's office in Paterson and is currently the Chief Assistant Prosecutor. Over the past four years, Dewey has been the Chief Attorney in charge of the Grand Jury and Pre-Indictment sections. According to Dewey, at the Grand Jury level, a prosecutor presents evidence and witnesses in front of 23 jurors, who then decide if there is enough proof to present an indictment, or a written statement charging the party with a crime, which would bring the case to trial. The pre-indictment section screens all cases that go through Dewey's office, where he helps determine whether a case can be quickly resolved and sent to the municipal court in the town where the offense occurred. If it cannot be resolved quickly, it will be sent for a hearing in front of a Grand Jury.
Dewey says that in all his time of prosecuting, he has dealt with adult and juvenile cases of all classifications, and to date, he has completed approximately 100 jury trials.
Dewey always felt that he would be a lawyer, and his father, who was also an attorney, helped influence this decision. Dewey states that once he chose his career path and started studying law, his passion for the field really began to bloom.
During his time at HHS, Dewey was on the bowling team, and he did theater as well. When asked what his best memories at HHS were, he said, "The lifelong relationships [he has made]…. I still see my high school friends on a regular basis. My two daughters [Allison and Rachel Dewey] had some of the same teachers!"
After his attendance at Hawthorne High School, Dewey received his bachelor's degree from Rutgers College and earned his law degree at the University of Bridgeport.
Dewey is a role model that any HHS students can look up to. He had a dream to work in law, and he worked hard and made that a reality. When asked if he had some advice to give Hawthorne High school students, he said that our high school performance is the foundation for the rest of our lives, and that it will affect college and present and future goals. "Work hard and study to get the best grades that you can. Enjoy these days and have fun, but you should also discover new educational experiences or pick up a book once in a while rather than watch reality TV!"