Local Celebrity WNBA Player: Essence Carson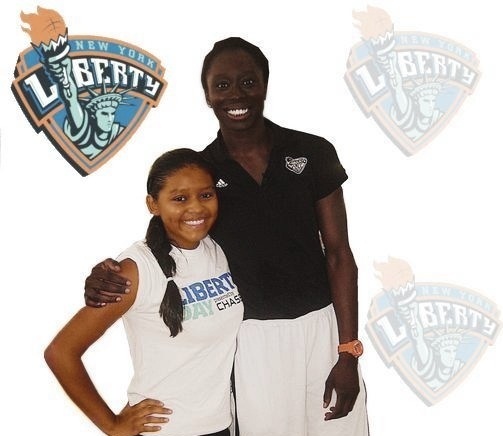 WNBA player, Essence Carson, is from the near-by city of Paterson, New Jersey. Carson has been living her ultimate dream by playing professional basketball with the New York Liberty team since 2008.
On Greatist.com, reporter Jordan Shakeshaft notes that at 7:45 a.m., before school started, at the young age of seven, Carson would go to the basketball court and shoot hoops with boys. Carson said, "They'd make fun of the other boys when I'd do a crazy move and score on them. There was a lot of, 'Oh you just got did up by a girl.'" From a young age to her adult career, Carson's love of basketball and her determination has allowed her to have outstanding skills and performance. Her perseverance to improve her accuracy and proficiency in basketball has allowed her to live her ultimate dream of playing professional basketball.
As reported by Brett LoGiurato on NJ.com, when Carson was in her first year of high school at Rosa L. Parks School of the Fine and Performing Arts, her dream to play ball came true when Eastside High School's coach Ed Black asked her, "Do you want to be one of the best players in the country one day?  Do you want to play big-time basketball?" Since the Rosa L. Parks School of Fine and Performing Arts didn't have a basketball team, Carson played for the Eastside High School team. From there, Black assisted and prepared Carson to reach the college and professional levels of skill by making her play all the positions on the court during practices. Carson said, "[This procedure helped me because] you need to be able to think and see the game before it actually happens…I learned the game from all angles. … Each position, you see the game in a different way." After winning several athletic awards and acknowledgements throughout high school, she graduated in 2004 and decided to attend the Rutgers University to major in physiology, minor in music, and of course play basketball.
From Rutgers, Carson's dream began coming true. An article on Essencecarson.com reports that in 2008, Carson was seventh to be recruited by the New York Liberty WNBA team. As a forward and guard, and a six-foot player, she has obtained the prestigious title award of being the Big East Defensive Player for three straight years. According to Foxsports.com, "Last year, the former Rutgers star had career-best averages of 11.6 points, 3.4 rebounds and 1.7 assists." Certainly, she is a fierce and valuable player working every position on the court.
Carson isn't letting her successful career and the fame go to her head. As reported on WNBA.com, Carson said to her fans, "Just as I couldn't imagine playing for the Liberty as a kid, as an adult who has played my entire five-year career in New York, I can't imagine playing anywhere else. I look forward to the day that I can hoist the WNBA Championship trophy over my head –that will be the ultimate payback for all of the support you have shown me over the years."
Not only is Carson a well-rounded WNBA player, but she is also talented musician. She can play the piano, bass guitar, drums, and saxophone. When she is not practicing or playing basketball, she is working on her music production. Carson posted on her official website, Essencecarson.com, "I always strived to be the best athlete and the best musician that I could be at the time. It seems like that formula works for me, because it proved successful."
She is also helping others on her spare time. According to an article on Fittbottongirls.com: "Essence helps educate communities on fitness, exercising, and creating healthier eating habits to help prevent things like diabetes and high blood pressure."
Carson has many more upcoming years to show and improve her gifted talents from the basketball court to producing music. Carson said on her website, "I grew up surrounded by people that made me believe that I had everything in the world, even though there was a fair amount of struggle. I'm still thankful for that. It motivates me. My city still motivates me."