Spotlight on Tracklete Davius Bunch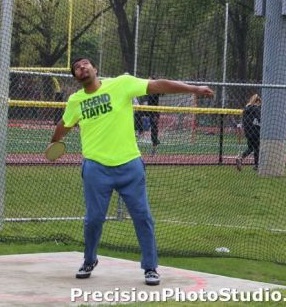 Lath Matari, Contributor
May 26, 2016
Hawthorne's Wrestling District Champion is back in the spotlight. Senior Davius Bunch is ready to shine once again for Hawthorne in the State Track and Field State Championships on Friday, May 26. Bunch excels in the shot put and discus and was recently named to the First Team All Passaic County after his first place victory in the shot put and second place in that discus at the PCCA Track and Field Championships. Bunch credits Coach Gustav Schell for his success throughout high school and for his county victory.
Becoming a champ doesn't happen overnight. Bunch works hard every day, grinding every last ounce of energy out of himself to ensure he is successful in meets. Bunch's brute strength is important, but there is more to his success. Bunch says, "During practice, I really focus on my technique and form and I do a lot of drills." In the State Championship on Friday, Bunch expects his strength and his mastery of technique to help him reach his goal of setting meet records in both discus and shot put.
As his high school career slowly approaches its conclusion, Bunch shares his best track memory. He says, "One memory that I will never forget was during my sophomore year at State Sectionals. It was the worst weather. It was down pouring, and it was windy and freezing. Other team's tents went flying. A couple of my teammates found this shed that the baseball team used and it was left open. So a couple of Hawthorne athletes took refuge in this little shed to stay warm and dry." Some of the best memories come from the worst moments.
We thank Bunch for his dedication to the Hawthorne's boys track program, and we wish him and the rest of the track team luck in the State Track and Field State Championships. "Heroes get remembered but legends never die." Regardless of the outcome on Friday, Bunch will leave as a legend, as well as one of the best throwers Hawthorne has ever had.