Girls Varsity Soccer Update: Victory and an Upcoming Battle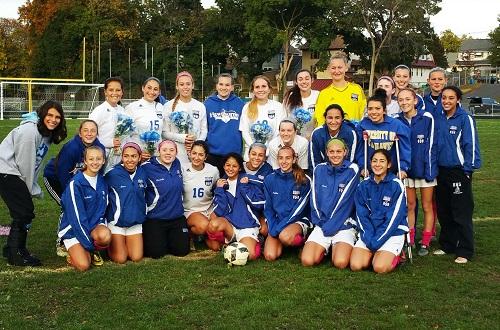 This year, the Hawthorne High School Girls Varsity Soccer team is setting records left and right. With their overall record of 16-2-1, the team is having one of its most successful seasons ever. So far, they have not lost a single game on their home field, and have only given up 7 goals. Their major wins were against such teams as Rutherford, Eastern Christian, and Pompton Lakes. Also, for the first time in soccer history at HHS, the girls are the 2nd seed in the NJIC State Tournament! Further, they secured a state game win for the first time in many years!
On Tuesday, November 1st, the team obtained a solid 3-0 victory over Hopatcong in the first round of the state tournament. The offense played powerfully, with goals scored by sophomores Katrina Kimberlin and Heather Bertollo in the first half. Senior goalie Madison Noordeloos and the defense- led by sophomores Megan Knepper and Sophia Difilippo, junior Kayla Miller, and senior Meagan Scherer- also played a strong game, not letting the other team score any goals.
The girls are moving on to the second round of the state tournament this Friday, November 4, and are playing against powerhouse team Pompton Lakes. Pompton puts up a challenge in every sport, so the game will be one to look forward to. Be sure to stop by the field at 2 p.m. and support the team!
The Clarion wishes the girls good luck for the rest of their season!