Alumni Spotlight: Andrew Courtney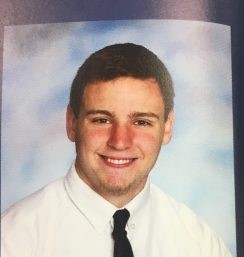 Editors Note: The Clarion is excited to introduce a new column called "Alumni Spotlight" showcasing graduates from Hawthorne High School. Next up, HHS alumni Andrew Courtney from the class of 2015.
Clarion Interviewer: What were some of your favorite HHS memories? Who were your favorite teachers at HHS?
Andrew: My favorite HHS memories were football games and seeing all my friends everyday… I miss that especially. My favorite teacher by far had to be Ms. Clifford :).
Clarion Interviewer: What sports did you play at HHS?
Andrew: I was on the football team from my freshman year onward…good times. I also played baseball my freshman year but it was pretty rough after an incident.
Clarion Interviewer: What are you up to now? What college did you end up attending? Why?
Andrew: I go to school regularly, and I also work a lot, whenever I am free I hang out with my friends and just chill out. I attend Lincoln Tech because its a great vocational school that opens a lot of great job opportunities down the road.
Clarion Interviewer: Career goal? Goals in general?
Andrew: My ultimate goal is to become a cop and be successful with what I am doing. I also want to move out of NJ (preferably Maine or Colorado), work hard, retire, then start my own business for that extra moola. For now I am joining the Navy, I love being out on the water and it has the job that best suits me.
Clarion Interviewer: Describe your HHS experience. How has your outlook on life changed since you left HHS?
Andrew: Going to HHS was good; but it was also interesting and it was very slow.  After high school is over, remember to worry about yourself because nothing else matters afterwards.
Wish Andrew all the best!