Times of Contemplation and Reflection at Hawthorne High School
Hang on for a minute...we're trying to find some more stories you might like.
On Monday, January 15, America celebrated Martin Luther King Jr. Day to commemorate the Civil Rights Activist who gave his life in his fight for racial equality. In order to emphasize the importance of Martin Luther King's legacy, Mrs. Schlossberg led the organization of a Hawthorne High School assembly on Tuesday, January 16, for the freshmen and sophomore classes. The assembly, hosted by the Anne Frank Center of Mutual Respect, featured a brief summary and play revolving around both Martin Luther King Jr. and Anne Frank, a young girl remembered for her iconic diary which chronicled her struggles as a Jewish resident of Nazi Germany.
The assembly began with an introduction by the Associate Director of Education, Mr. Bryan Caine. He summarized the company's history to the two grade levels and then proceeded to introduce the oncoming play. The Anne Frank Center of Mutual Respect was founded by Otto Frank, the father of Anne Frank, in 1959. Since then, the company has sought to preserve the legacy of Anne Frank and other historically significant figures like her. The company presents all around the world, not only showing their signature play, but also often holding speaking tours with figures such as Anne Frank's cousins. At the end of his introductory speech, which also included brief summaries of Anne Frank and Martin Luther King, Bryan Caine introduced the proceeding play, Letters from Anne and Martin.
The play was short but powerful, featuring the readings of Anne Frank's diary entries and Martin Luther King's "Letter from a Jail in Birmingham." Both Frank and King were portrayed by stellar actors, Rachel Griesinger, a Brooklyn based stage actor, taking on the role of Anne, and Parish Bradley, an actor from Buffalo New York currently with a professional theater group, acting as Martin. The actors' performances, including their imitations of the distinct accents which accompanied their characters, their inflections, and their emotional speeches, brought goosebumps to many of the audience members. The quick and witty layout of the play, including transitions between speeches which were blended together beautifully, also left the audience stunned in an intense and yet captivated silence.
At the conclusion of the play, both of the actors and the Associate Director of Education participated in an interview-like discussion with the underclassmen and their teachers. Clearly intrigued by the whole experience revolving around learning about tolerance, the audience participation was evidently greater than during any other assembly, and several thought-provoking questions were asked.
HHS Student: How have the recent white supremacist rallies affected you?
Parish Bradley: It gives context… It's a lot easier to find things happening right now to remind you that there is still work which needs to be done… These types of stories about these activists need to continue to be told in order to combat this ignorance.
Rachel Griesinger: There are a lot of people right now just like Anne and Martin who are fighting this ignorance and doing this work and I really try to think of them while doing this show.
HHS Staff Member: Have you experienced any negativity while doing this tour (a question regarding the growing white supremacist ideals)?
Rachel Griesinger: Surprisingly, no. I feel like people are really activated by the times… It's just so relevant… The response has really been great.
Parish Bradley: I think we really encourage people, no matter what their political opinions may be, to take action.
HHS Student: What attracted you to these characters?
Paris Bradley: It's hard not to be excited about playing two people who had so much hope. It would have been so easy for them to give up… You can only imagine having a small amount of the bravery of these people… It's inspirational.
The assembly concluded with an excited round of applause and a great cheer from the audience, with Mr. LaGrone making final motivational remarks about the great relevance and importance of the day's assembly. Judging by the truly captivated audience and the entertaining performance on behalf of the Anne Frank Center of Mutual Respect, it is easy to say that the assembly was a great success and another right step in educating the next generation about tolerance, acceptance, and love.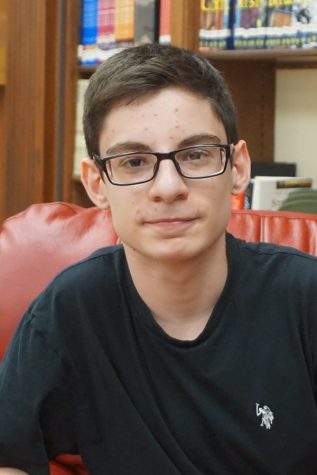 Alexander Nadirashvili, Staff Writer
Alexander Nadirashvili is currently a sophomore here at Hawthorne High School. His interests include painting, reading, and writing. Alex participates...