Senior Spotlight: Timothy Palmer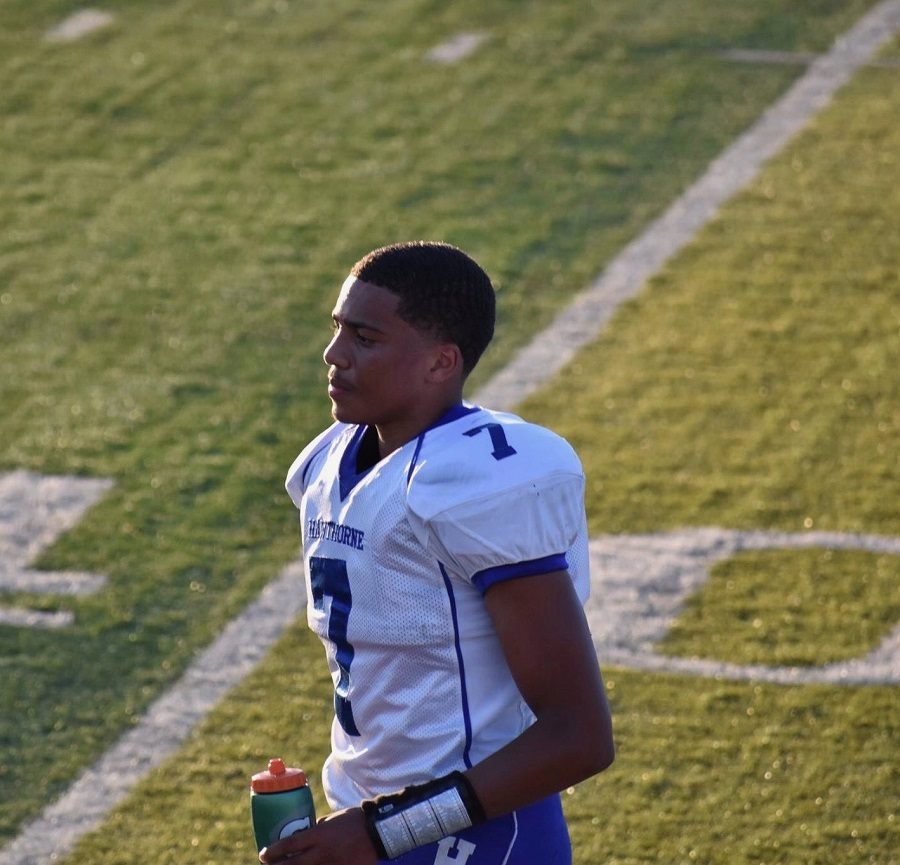 As the Hawthorne Boys football season comes to an end, The Clarion would like to reflect on the accomplishments and talents of the team captain, Timothy "TJ" Palmer.
CLARION: What awards did you win?
TJ Palmer: My junior year, I received 1st Team All League and 2nd Team All county.
CLARION: What was your initial reaction when you won?
TJ Palmer: I was very excited and could not wait for my season to begin. Although I don't usually pay attention to my personal achievements, and I merely focus on the team's goals, it is an accomplishment I will always remember.
CLARION: Who is your biggest supporter?
TJ Palmer: My biggest supporter, by far, is my mother. Even though she knows very little about football, she continuously supports me in the mental aspects of the game. No matter how busy she is, she goes to every single one of my games and is always sitting in the front row cheering me on.
CLARION: Do you plan to continue football through college?
TJ Palmer: Football will always have a lasting impact on my life, but unfortunately, I do not plan on extending my talents to the next level in college.
CLARION: What advice would you give underclassmen that look up to you?
TJ Palmer: I would tell the underclassman that, if they really love the game, they should put in 100% of their effort everyday on the practice field. No matter how tired they are or how hot it may be outside, they should perform at their highest ability in order to be the best version of themselves.
CLARION: How do you describe Coach Passero as a coach?
TJ Palmer: Coach Passero coaches the game differently than other coaches. Even if the player is a freshman, he will give them a chance to prove what they have on the varsity level. As a young adult, this gives the player the confidence that lasts all four years of high school and so forth.
CLARION: How did it feel being captain this season, and how did that reflect your performance on and off the field?
TJ Palmer: Coming into the season, I felt a great sense of responsibility for my teammates, as well as the overall success of the team. Being given the opportunity to be captain allowed me to display my leadership skills on and off the field. My teammates became my family, which allowed me to carry a great sense of pride for my school.
The Clarion would like to congratulate Timothy Palmer Jr. on a great season, and we wish him luck on his future endeavors!