Nikki's New Arrival at HHS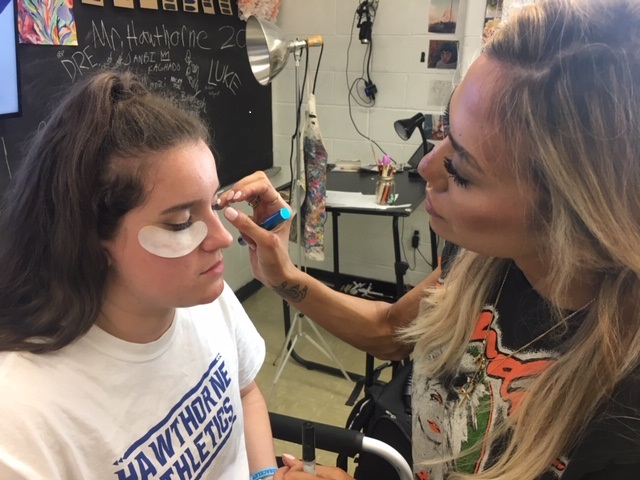 On May 2, 2019, Nikki Kasak, came to Hawthorne High School.
For those who do not know who Nikki Kasak is, she works for the Real Housewives of New Jersey, Bravo, and Pnina Tornai from Say Yes to the Dress!
Nikki has experience working with cosmetic companies NARS and MAC! Nikki is well known in the Metropolitan area as a top bridal makeup artist. She came to HHS and gave a tutorial for a new prom look. Nikki gave some helpful tips to achieve the prom look and tips for makeup in general.
She also gave students a background story about herself and additional information on what she does. When she was 18, she had a part time job working with MAC. She graduated high school and went to college to major in art and minor in marketing. Originally, she wanted to go to college to major in fashion. She accomplished her four years! She has always believed that true beauty radiates from within and everyone is as beautiful as we feel. Now that we have gotten to know Nikki a little better, The Clarion got to ask her a couple questions!
CLARION: What is your favorite part when you do your makeup routine?
NIKKI KASAK: My favorite part when doing my makeup routine is doing my mascara!
CLARION: If you were not into makeup/art what do you think you would be doing now?
NIKKI KASAK: If I was not doing makeup I would definitely become a nutritionist, specifically a holistic nutritionist.
CLARION: What is your go to makeup look?
NIKKI KASAK: My go to makeup look would have to be clean skin and big eyes.
CLARION: Besides makeup, do you have any other hobbies? What do you like to do in your free time?
NIKKI KASAK: My other hobbies are health and fitness.
CLARION: What is the most requested makeup look you get asked to do on a client?
NIKKI KASAK: The most requested look I often get asked to do on a client is a smokey eye.
CLARION: Do you have any goals you want to accomplish in the near future?
NIKKI KASAK: I might go back to school to take classes and learn more about nutrition.
Thank you Nikki Kasak for coming to Hawthorne High School and taking the time to talk to The Clarion.