HHS Presents a 10-Year Anniversary Production of Our Town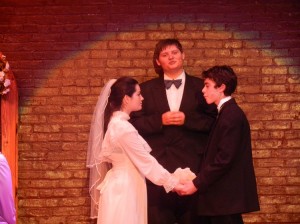 Hawthorne High School presented the annual fall drama production on December 14, 15 and 16, 2012. Our Town was chosen by English teacher and head of the drama department, Melody "Jill" Hackett, to celebrate her 10 years as the director of school productions in HHS's drama program. Our Town was the first stage production that Hackett directed back in 2003, so she decided that doing the same production 10 years later would be a special event.
Our Town, written by Thorton Wilder, is an interesting play because it has no scenery; the setting is based upon imagination. The stage manager, who was played by senior Jonathan Aliberto, narrates as the play goes along. Aliberto would tell little bits of information about Grovers Corners, New Hampshire (where the play takes place), and actors would portray it on stage. The only set pieces in this production were a few chairs and tables. Sound effects helped bring this play to life. Sounds, such as a train or chickens, helped the viewer imagine what was going on.
This play centers around two families in the early 1900s, the Gibbs and the Webbs. Frank Gibbs, played by senior Bryan Curtain, and Julie Gibbs, played by senior Rachel Kane, have two children, George and Rebecca. The children are played by freshmen, Dan Cassini and Gabriella Maoli. Charles Webb, played by senior Eddie Davies, and Myrtle Webb, played by senior Mackenzie Sanint, also have two children, Emily and Wally. Junior Nicole Crilly and freshman Kevin Wilson played these roles.
The first act takes place in May of 1901 and tells about the daily life of the two families. This shows the children going to school, the mothers conversing and going to choir practice, and the fathers working to make money for their families. During this act, the stage manager has different Grovers Corners residents tell the audience important information about their town.
Act Two takes place in July 1904 and is titled "Love and Marriage" for a very specific reason. George Gibbs and Emily Webb end up finding out that they have a strong connection and have loved each other from a young age.  In this act, the childhood sweethearts get married and the whole town attends the wedding.
Act Three was the saddest of them all. It's titled "Eternity" and takes place during the summer of 1913. The whole act is set around a cemetery where the audience sees multiple Grovers Corners residents who have passed away. Emily Webb is among these deceased residents. Sadly, she died during the birth of her second child. Emily decides to relive one day of her past and chooses her 12thbirthday. Emily, after reliving this day,, realizes that it wasn't a very good idea to relive the past and decides to go back to the "other side."
In the lobby of the auditorium, the crew of Our Town put together a representation of all 14 shows that Hackett has directed at Hawthorne High School. This display let the audience know how hard HHS has worked on their productions and how proud they are of their accomplishments.
Hawthorne High School cast and crew did a fantastic job with this play. From the acting, to the lighting, to the sound and to the friendliness of everyone involved, it was a wonderful performance and made the 10 year anniversary of Hackett's reign as director of the drama program a very memorable one.