Hawthorne High Takes Home First Prize in STEM Tank Competition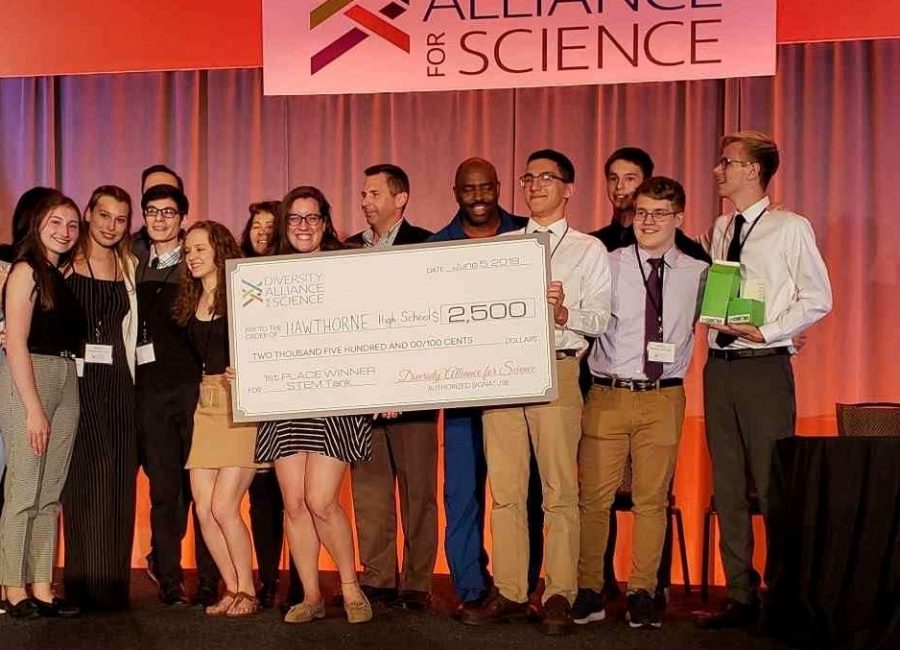 Hawthorne High School students won first place in a STEM Tank competition sponsored by the Diversity Alliance for Science on June 5. This interactive competition gave the students an opportunity to prepare a Shark-Tank-like presentation promoting their STEM-based invention: the ecoCarton–the easily recyclable, quickly decomposable, and upcycleable way to package juice products. Hawthorne integrated science, technology, engineering, and math into their invention and presentation which was judged by representatives from Johnson & Johnson, Bristol-Myers Squibb, and Merck. The students were coached by HHS teachers Cheryl Pasquale, Michele Phibbs, and Theresa DiGeronimo. The team's hard work earned them first place and a check for $2,500 for the district's STEM program. Hackensack High School took second place, winning $1,500; and Passaic County Technical Institute earned third place and $1,000.
Additionally, as the guests of the Alliance for their East Coast Conference held at the Newark Liberty International Airport Marriott Hotel, the students were invited to participate in a 2-hour workshop hosted by Thermo Fisher Scientific in which they were engaged in different science experiments under the instruction of representatives from  Laxco. After a large buffet lunch, the students attended the keynote address given by Leland Melvin, an engineer, educator, former NASA astronaut and NFL wide receiver who served on board the Space Shuttle Atlantis as a mission specialist. The day spent among professionals in the science field offered a wonderful opportunity for the students  to network and make connections that the participants agreed could open doors to internships and mentorships. Conference speakers noted that STEM jobs are expected to grow faster than other occupations through 2030 with research showing that the commitment to study STEM in college is made in high school or earlier.
PHOTO: STEM students on stage with representatives from the Diversity Alliance for Science. Students from left to right: Sarah Kozrosh, Patti Jacobson, Alex Nadirashvili, Marlena Alvino, Jacquelyn Hampson, Mike Rica, Josh Kobuskie, Pat Olah, Dan Sweetman