Premier League Games Canceled: Will They Return?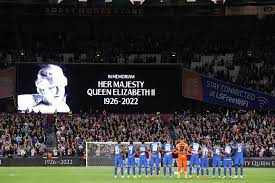 On September 8, 2022, the Queen of England, Queen Elizabeth II passed away peacefully in the afternoon which left some people heartbroken and saddened
The Premier League in England is where the best soccer teams in England clash to get points for the championship. The Premier league showed their support and or honor for their late Queen, and some games that took place that week were postponed, canceled, or rescheduled. 
This is the first time in Soccer/Futbol history that a shutdown has occurred. Some of the more exciting games that fans were raving about, which included Chelsea v Liverpool and the clash at Man United's Old Trafford v Leeds United were the few that were postponed.
The games were also postponed because of the lack of authorities that were not able to attend because of the security of the Queen's funeral.  The most recent games like Crystal Palace and Brighton were just recently postponed, but have now been canceled. There will be no rematch or any reschedulement taking place. 
The other 7 games that were scheduled will play ahead from Friday this week. Also, the time that the games were supposed to start will be changed to 2.15 pm in the afternoon. But for the games postponed there are no new dates announced according to the Premier League and the authorities. 
"For the matches being played during the period of National Mourning, tributes will be paid to The Queen at Premier League stadiums. New dates for the postponed matches will be announced in due course."- Premier League.